Sikorsky CH-53E Super Stallion MOC Showcase
In the realm of LEGO military creations, the Sikorsky CH-53E Super Stallion stands tall as an exceptional model, bridging the gap between imagination and authenticity. This meticulously crafted LEGO MOC (My Own Creation) pays homage to the iconic heavy-lift helicopter used by the United States Marine Corps.
The CH-53E Super Stallion, an evolution from the CH-53 Sea Stallion, comes to life in brick form through careful attention to detail. The addition of a third engine, a seventh blade to the main rotor, and a 20° canted tail rotor mirrors the engineering marvel of its real-world counterpart. LEGO enthusiasts and military aviation fans alike will appreciate the precision and dedication put into this creation.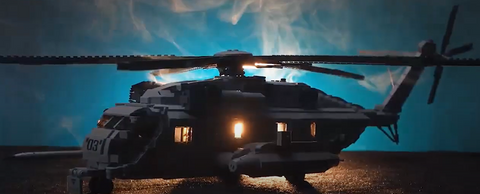 The MH-53E Sea Dragon variant, designed for long-range minesweeping and mine countermeasures missions, adds an extra layer of complexity to this LEGO MOC. The versatility of the Sea Dragon is captured through subtle design elements, showcasing the builder's commitment to authenticity.

As we look toward the future of LEGO military builds, the mention of the CH-53K King Stallion cannot be overlooked. While not part of this specific MOC, the evolution from the CH-53E to the CH-53K represents the continuous innovation within both the military and LEGO building communities.

It's fascinating to witness the convergence of two worlds — LEGO and military aviation — in creations like the Sikorsky CH-53E Super Stallion MOC. The commitment to accuracy and the infusion of creativity make this LEGO build a standout piece in the ever-expanding landscape of LEGO military creations. Whether you're a LEGO enthusiast or a military aviation buff, this MOC is a testament to the limitless possibilities that emerge when passion meets plastic bricks.
Related Products:
MOC-127265 Sikorsky CH-53E Super Stallion
PCS: 2192
Weight: 1.7 kg
Designer: DarthDesigner
Link: https://bit.ly/3LI0GYv